Eclectic Education Series
(All of the books from the Eclectic Education Series are available at www.dollarhomeschool.com)
The Eclectic Education Series (EES) is a set of textbooks which from roughly 1865 to 1915 WAS education in the United States, almost exclusively. They were the standard textbooks in many states and were chosen independently by over 10,000 school boards as their standard textbooks.
The EES covered every topic. Some of the series are still household names almost a hundred years after they ceased being used. These include McGuffey's Readers and Ray's Arithmetics. There were many other extraordinary series in the EES such as Pinneo's Grammars,Thalheimer's Histories and Norton's Sciences that were used by countless students.
The books provided schools with a brand they could trust - the EES. The authors commissioned to do the various line of textbooks were at the top of their fields. No expenses were spared in preparing these incredible textbooks. Original art was commissioned for them, they were typeset with extraordinary care. They were refined and honed through multiple revisions over decades. And they all taught using the same basic principles. As an added bonus, they were often keyed off the cornerstone of the series, the McGuffey Readers, so that a book might say "Use with the 3rd Reader" to give some indication of its intended proficiency level.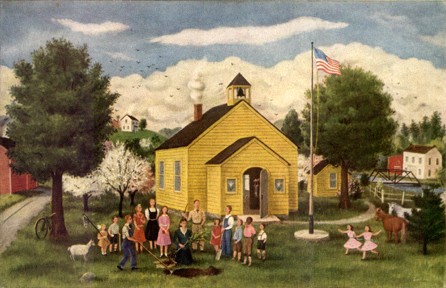 The result? A hundred million students in one-room schoolhouses got first-rate educations using the EES - and went on to build and shape America. People like Theodore Roosevelt, who once made the public statement that he did not propose to become a "Meddlesome Matty." This allusion was perfectly clear to the millions of people who used the McGuffey Readers at any time after 1853.
So why did the United States stop using them? It is a sad story: After WWI, John Dewey, the head of the Teachers College at Columbia University launched an all-out campaign to "reform" education. Dewey was a humanist, a socialist, and an atheist. He saw the McGuffey Readers and the entire EES as threats - they emphasize patriotism, traditional values, and the Bible. Dewey believed, in his own words, that public schools should be the "State established church." Dewey viciously attacked the textbooks of the day as "antiquated" and he was able to successfully bring about their demise, as well as the demise of quality public education.
Dollar Homeschool is dedicated to bringing these classics back, and making them available to those who love the traditional values that made America. We have made the books available on cd so that you can print out the same books that made a country great. Nothing has been changed - not even the typesetting. And with them, you can arm your children with an education of the very highest quality.
Interested? For a limited time you can now buy the entire Eclectic Education Series for $159- saving $56 dollars over the cost of buying them seperately, and an extraordinary deal compared with any other educational program. With our 30 day money-back guarantee, you can feel confident in your purchase. If you would like to learn more, please look around our website, you can click on the tabs at the top of the website to learn more about the specific books and series.
The entire Eclectic Education Series, including Ray's Arithmetic, Science, History, Grammar, and McGuffey's Readers is now available on CD for only $159--- $56 dollars less than buying separately! and your satisfaction is guaranteed. If unhappy just return within 30 day's, and we will immediately give you a full refund.
Yes! I would like to order the complete Eclectic Education Series on CD for only $159.00, a savings of $56!