Restoring American Education
The Eclectic Education Series encompasses some of the finest textbooks ever produced in America, and includes over 150 books covering a wide range of subjects. Designed for use in the classical one room schoolhouse, with an emphasis on independent self-teaching, these books are tailor made for today's homeschooling family.
There are many different authors whose works are included in the Eclectic Education Series (EES). Each of these authors was widely known and recognized for their teaching ability; especially William Holmes McGuffey, who was called the "Schoolmaster of the Nation" by President Abraham Lincoln.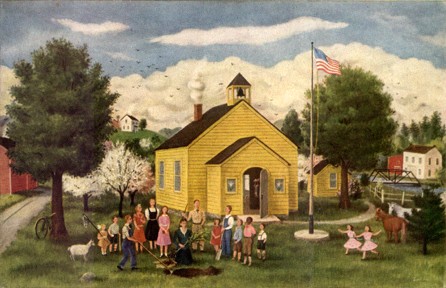 The books in the EES have often been praised for the high educational standard which they set, and for the impressive results they produced in their students.
However a more important reason for the success of the books and the students that used them was the strong Christian character of the authors, which is conveyed through the books.

"For the copious extracts made from the Sacred Scriptures, he (the author) makes no apology. Indeed, upon a review of the work, he is not sure but an apology may be due for his not having still more liberally transferred to his pages the chaste simplicity, the thrilling pathos, the living descriptions, and the overwhelming sublimity of the sacred writings." ~W. H. McGuffey, 1837 3rd Reader

Throughout the many different books in the EES the Bible is consistently used as a reference point, whether as reading material for memorization, as copy for copybook writing, as an example for correct grammar, as a dependable historical account, or simply the philosophical foundation for math, science, and life.
Dollar Homeschool is dedicated to reclaiming America's Christian heritage. To that end, we have republished the entire EES in digital format. It's an entire K-12 education, available to any family that wishes to give their children a truly excellent education.
Q: Are the books too old?
A: Despite the accepted practice of publishing new textbooks on every subject each year, the truth is that the fundamentals of a truly good education don't evolve. 2+2 always equals four, and Columbus always discovers America in 1492. The difference arises from the world view by which facts are interpreted. And this is the value of the EES. For the authors of the EES, truth was not a relative concept. Instead, all of life was interpreted in terms of Christ and his law word.
All of the books in the EES have been carefully organized for use by the homeschooling family. For the student, the EES provides thorough explanations, questions for review, and numbered paragraphs for quick and easy reference. For the homeschooling mother or parent, several of the original teacher manuals are included, as well as modern introductory materials for each set of books to help you get started, with aids for organization and teaching in the modern homeschool setting.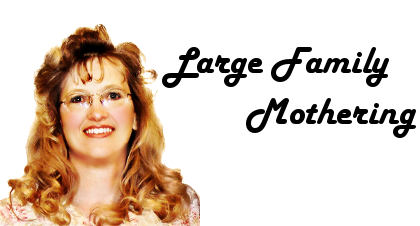 These modern introductions to the EES also provide an in-depth introduction to homeschooling in general. They were written and designed by Sherry Hayes, a mother of 15 children and a 23 year homeschool veteran, who is currently using the EES with her own children. She is also the editor of her own homeschooling blog, Large Family Mothering.



Q: What exactly are all the books in the EES?
A: There are a total of over 150 books provided in the EES. We have organized these into five collections, beginning with: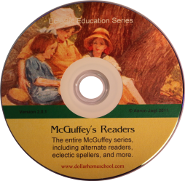 McGuffey's Readers: The most famous books from the Eclectic Education Series, at least 122 million copies of McGuffey's Readers have been sold since their first publication--- an incredible number. And when you consider that many of these books were used by up to 5 or 6 students, the impact of this series is staggering. Their content is a collection of some of the very best writing in the English language, carefully organized by difficulty. They give children examples of many Christian values, such as hard work, perseverance, thoughtfulness, thrift, and respect, to name just a few. Even as adults, many of the students who used McGuffey's Readers remembered the lessons learned as children with fondness. One of these was Henry Ford, who often quoted from the McGuffey Readers, from which he and his wife were both educated.

If you have heard of the McGuffey's before, you are probably familiar with the 6 main books in the McGuffey series. What you may not have known is that there were also 4 Alternate Readers, a Spelling book, two Speakers, two books on Familiar Animals and Living Creatures, and more. There are 18 books in the main McGuffey Series, as well as several other books which we have included in this collection.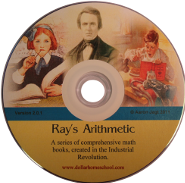 Ray's Arithmetic's: Another astronomically popular series with over a 100 million copies sold, Joseph Ray's unique series of math books makes good use of word problems incorporating many real-life situations. Has your child ever wondered whether the math they were studying was actually important or useful to them? With these books math is far from being an abstract and relatively useless exercise, and that question is easily answered. Students who use the Ray's series are prepared to use math in their daily lives, whether it be finding the correct measurements for chemistry or food preparation, keeping track of finances, or calculating the rate of inflation.
Joseph Ray doesn't just teach how to solve math problems, he teaches the student how to use math in their daily life.
And many more: But besides these two especially famous series, there are many other amazing books in the Eclectic Education Series.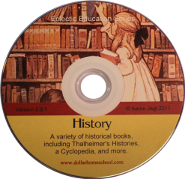 In the History collection are the 6 Thalheimer's Histories, which provide a history of the world from a Biblically centered perspective. Three historical books written by James Baldwin for younger children are also included, and besides these there are a variety of books for all age ranges covering subjects such as the Constitution, Naval History, Music, and more.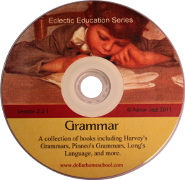 In the Grammar collection there are Longs Language Series, which provides a natural introduction to writing and correct grammar for young children, followed by Pinneo's and Harvey's Grammars for when the children are a little older. Also included are several books on foreign languages: Latin, French, and German.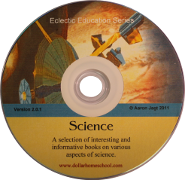 And finally in the Science collection, for younger children there are books on Nature Study and Health, and for older children the important Norton's Science books, providing lessons on Physics and Chemistry. Many other interesting books are also included, covering subjects such as Agriculture, Business, Civics, Logic, and Economics.
Select a thumbnail from above the picture to change the image
There are over 150 books in the EES, you can view a complete list of the books and view sample pages by clicking here: EES Book List


Q: This all sounds great, but how much will it cost?
A: The Eclectic Education Series is a complete K-12 curriculum with over 150 books written by the some of the best authors of their time. If you had a billion dollars to create the perfect homeschool curriculum, you would still find it impossible to find books with a better educational record than those in the Eclectic Education Series! These books have proven their effectiveness time and time again. But while the books in the EES have always been known for providing a superb education, another reason for their popularity has been their low cost. We have maintained that tradition, by providing all of these books in digital format, on CD. Besides its low cost, this format has many other advantages such as being:



Flexible: The EES can be used as printed materials, viewed on the computer, or even uploaded to an e-reader.

Lasting: It is easy to re-use the books across multiple children because the books are in digital format--- that means they never wear out.


There are 5 CD's in the complete Eclectic Education Series set. The Ray's Arithmetic collection costs $59, while the McGuffey, Science, Grammar, and History collections cost $39 each. That means the cost for the entire Eclectic Education Series is only $215. And don't forget the wonderful and freely included homeschool materials written by Sherry Hayes!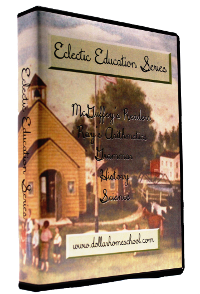 But while $215 dollars is already a fantastic price for over 150 school books (you could easily spend that much just buying two or three modern textbooks), we have taken it a step farther- when you buy the entire set together, we are currently offering the entire series for a reduced price, just $159 for the whole set. That more than 25% off!
And that's still not all. If you order now, we are currently offering FREE priority shipping on all orders, everywhere. Even international orders are included in this special offer.
You can take advantage of this great deal and purchase the entire EES right now by clicking the buy now button below, or if you like, you can scroll down a little further to the bottom of this page for 6 easy ways you can learn more about this amazing series of textbooks, the Eclectic Education Series.

Yes! I would like to order the complete Eclectic Education Series on CD for only $159.00, a savings of $56! You can purchase using either your Credit Card or Paypal account by using Paypal's secure order form! Problems? Question? Please feel free to contact us at
For your peace of mind and to show our confidence in our product, we offer a 30 day, no questions asked return policy. If upon receiving the EES you decide you aren't satisfied, just return it within 30 day's and we will immediately send you a full refund.


Interested but not sure yet if the EES is right for you?
Here are 6 easy ways that you can learn more about the Eclectic Education Series:
Click on the links at the very top of the page to read about the 5 collections included in the entire EES in more detail.


Get Sherry Hayes book on her experience using the EES by clicking here:

Homeschool Sanity

And finally, you can read our frequently asked questions page by clicking here:

FAQ
Of course, if you have any questions, please feel free to e-mail us at [email protected]! We are always happy to help serve the homeschool community in any way we can.