EES Book List
Below is a list of the books included in the Eclectic Education Series. You can view sample pages of the highlighted books by clicking on them, which will open a new page. The sample pages are in pdf format and may take a few moments to load.
If you get an error message or encounter difficulty viewing the books when clicking on them, you can download the sample pages by right-clicking on the link and selecting "Save target as" or "Save link as".
The numbers which appear before the title of the book (1-2, 3-4, 5-6, 7-8, etc) reflect the approximate difficulty and grade level of that book. For example, " 7-8 McGuffey's 4th Reader" means that McGuffey's 4th Reader is for grade levels 7 or 8.
The sample pages are usually the first 20 pages from the selected book.
---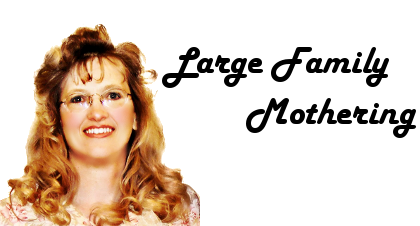 Included on each CD is the appropriate introduction written by Sherry Hayes:
1. Guide to Ray's Arithmetics, 32 pages
2. Guide to McGuffey's Readers, 52 pages (only 20 in the sample)
3. Guide to Grammar, 28 pages
4. Guide to History, 40 pages
5. Guide to Science, 40 pages
---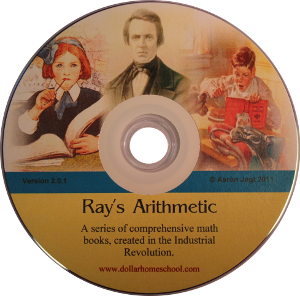 Ray's Arithmetic Collection
1. Ray's Arithmetic Series
1-2 Ray's New Primary Arithmetic
3-4 Key to Ray's Intellectual Arithmetic
3-4 Ray's New Intellectual Arithmetic
3-4 Ray's Rudiments of Arithmetic
5-6 Key to Elementary Arithmetic
5-6 Key to Ray's Practical Arithmetic
5-6 Ray's Elementary Arithmetic
5-6 Ray's New Practical Arithmetic
7-8 Key to Ray's New Elementary Algebra
7-8 Key to Ray's New Higher Arithmetic
7-8 Ray's New Elementary Algebra
7-8 Ray's New Higher Arithmetic
9-10 Key to Ray's New Higher Algebra
9-10 Rays New Higher Algebra
2. Math books complimentary to the Ray's series
1-2 White's First Book of Arithmetic
3-4 White's Intermediate Arithmetic
5-6 Dubbs' Supplemental Problems for Practical Arithmetic
5-6 Key to Ray's Test Examples for Practical Arithmetic
5-6 Ray's Test Examples for Practical Arithmetic
5-6 White's Practical Problems in Arithmetic
9-10 A Complete Algebra TE
9-10 A Complete Algebra
9-10 Test Problems in Algebra
3. Older versions of the Ray's series
(1837) Ray's Eclectic Arithmetic (early Intellectual)
(1837) The Childs Arithmetic (early Primary)
(1845) Key to Ray's Intellectual and Practical
(1848) Ray's Elementary Algebra
(1849) Ray's Arithmetic Part Third (early Practical)
(1856) Ray's Higher Arithmetic
(1857) Ray's Intellectual Arithmetic
(1857) Ray's Practical Arithmetic
(1857-1885) Ray's Primary Arithmetic
(1862) 3000 Test Examples in Arithmetic
(1877-1905) Ray's Modern Primary Arithmetic
2. Higher and Applied Math
9-10 Ray's Elements of Astronomy
9-10 Ray's Geometry and Trigonometry
11-12 Ray's Differential and Integral Calculus
11-12 Ray's Surveying and Navigation
3. Teachers Editions (Answers included next to the problems)
5-6 Ray's Elementary Arithmetic Teachers Edition
5-6 Ray's New Practical Arithmetic Teachers Edition
7-8 Ray's New Elementary Algebra Teachers Edition
7-8 Ray's New Higher Arithmetic Teachers Edition
9-10 Rays New Higher Algebra Teachers Edition
---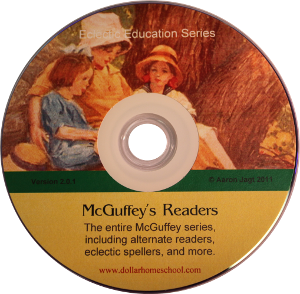 McGuffey Collection
1. McGuffey Readers
3-4 McGuffey's 2nd Reader
7-8 McGuffey's 4th Reader
9-10 McGuffey's 5th Reader
11-12 McGuffey's 6th Reader
2. McGuffey's Alternate Readers
3-4 McGuffey's Alternate 2nd Reader
5-6 McGuffey's Alternate 3rd Reader
7-8 McGuffey's Alternate 4th Reader
9-10 McGuffey's Alternate 5th Reader
3. Other McGuffey Books
1-2 McGuffey's Primer
3-4 McGuffey's Familiar Animals
3-4 McGuffey's Living Creatures
3-4 McGuffey's Spelling Book
3-4 McGuffey's Word List
5-6 McGuffey's Juvenile Speaker
7-8 McGuffey's Eclectic Speaker
9-10 McGuffey's New High School Reader
4. Rhetoric
7-8 A Rhetorical Reader
7-8 De Wolf's Instructive Speller
7-8 Hemans Reader for Female Schools
9-10 Hepburn's Manual of English Rhetoric
5. Progressive Course in Reading
1-2 PCR book 1
3-4 PCR book 2
7-8 PCR book 4 part 1
7-8 PCR book 4 part 2
9-10 PCR book 5 part 1
9-10 PCR book 5 part 2



---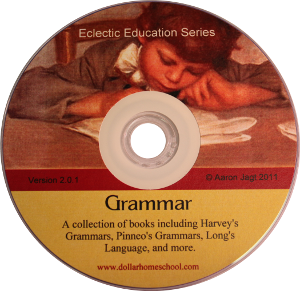 Grammar Collection
1. Pinneo's Grammars
5-6 Pinneo's Primary Grammar
7-8 Pinneo's English Teacher
7-8 Pinneo's Guide to Composition
9-10 Pinneo's Analytic Grammar
9-10 Pinneo's Exercises in False Syntax
2. Harvey's Grammars
5-6 Harvey's Elementary Grammar
5-6 Harvey's First Lessons in English
7-8 Harvey's Graded School Speller
9-10 Harvey's Practical Grammar
9-10 Key to Harvey's Practical Grammar
3. English
3-4 Longs Language 1st and 2nd
5-6 How Can I Increase My Vocabulary
5-6 Longs Language 3rd and 4th
7-8 Business Speller and Vocabulary
9-10 A Concise English Grammar
9-10 Grammar and Analysis made easy with diagrams
4. Latin
9-10 Bartholomew's Grammar of the Latin Language
9-10 First Latin Lessons Holbrook
9-10 Handbook of Latin Writing
11-12 Arthur Tappan Walker's Caesar
11-12 Bartholomew's Caesar
5. French
11-12 Extracts from French Literature
11-12 Method of French
6. German
11-12 Eclectic German Reader
11-12 German 1st Reader
11-12 German Primer
11-12 Introductory German Lessons




---
History Collection
1. Thalheimer's Histories
9-10 Thalheimer's Historical Atlas
9-10 Thalheimer's History of England
9-10 Thalheimer's History of the United States
11-12 Thalheimer's Ancient History
11-12 Thalheimer's General History
11-12 Thalheimer's Medieval and Modern History
2. Historical Books
5-6 American Poems
5-6 Practical Music Reader
9-10 Andrews Manual of the Constitution
9-10 History of Scotland
11-12 Oliver Cromwell's Letters and Speeches Vol 1
11-12 Oliver Cromwell's Letters and Speeches Vol 2
3. Books for Young Children
1-2 The Kindergarten Home and School Culture
1-2 Wonderful Stories of Old
3-4 50 Famous Stories Retold
3-4 Story Book of Knowledge
5-6 Barnes Elementary History of the United States
4. Big Books of Knowledge
7-8 Cyclopedia
7 -8 Wonder Book of Knowledge
---